Kia Dealers in BC
June 29 2017, Applewood Kia Langley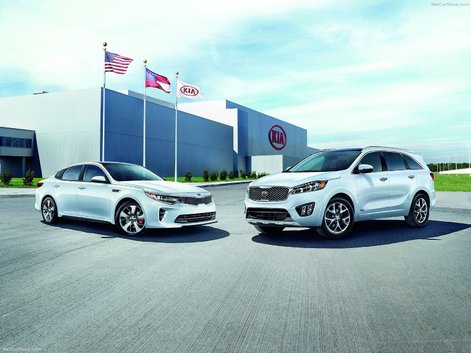 Driving a Kia means that you know your vehicles. With elevated features that stand out against any of the competition, the Kia brand has never been stronger and never looked better. But looks aren't everything. You want to know that you're driving a car that can handle whatever life sends your way. Let our team of professionals assist you and discover the vehicle that has the features that will make your life easier and more enjoyable.
Come down to Applewood Kia Langley and know that you're going to receive the committed and personalized service that aims to impress and create a lifelong relationship based on the fact that you deserve a better experience at a dealership. With decades of setting newer and better standards for rewarding our customers we're confident that you will find what you're looking for when you choose Applewood Kia Langley!
The Right Dearlership for Kia Vehicles

Let's take a moment and look over the wide range of Kia vehicles so that you can get a brief snapshot of what's awaiting you at Applewood Kia Langley. Starting with the Rio, a car that has been carefully equipped and designed to get you where you're going with the comfort highlights that will convince you to get out and explore more. Add to this the fact that you'll have the power of the amazing 1.6L GDI 4-Cylinder engine that offers 137 horsepower and a fuel economy that ranks at the top of its class at just 6.3-L/100 km Highway on a properly equipped model.
Likewise, with the Rio 5-door you'll have all you need to get around the streets with an enjoyable experience that sets you apart from the rest of the crowd. Optional features make this vehicle even more fun such as sunroof and rearview camera and all the way up toin-dash navigation system. Join us at the dealership and test drive this or any of our amazing Kia vehicles today!
The Quality You Deserve

When you drive the Soul you'll note that this is a vehicle all about quality. Enjoy the advantages that include1.6-L and 2.0-L 4-cylinder enginesand a serious quality of customization potential. The Forte name spans three models with the style that you're after to make your life easier including a Coupe and 5-door. With the Optima you step forward into a new level of automotive quality. The 2.4L GDI Theta engine equipped below the hood gives you control of 192 horsepower with ease while you enjoy the touches of luxury that run throughout.
The Cadenza is a fine example of a premium car done right. With 293 horsepower and the technology you know you deserve this is a car you'll love to drive. Likewise, the K900 is a magnum of power and potential for drivers that want the most out of the drive.
Plenty of Models to Choose From

When we move into the SUV/SUV/MPV segment you'll find a lot of options made available for you. Including the Rondo's great interior and amazing affordability that sets it apart from the crowd. Next we have the Sportage with 182 horsepower and a fuel economy of just 8.3-L/100 km on the highway, this is a CUV that really knows how to make the right first impression. The Sorento is your adventuring companion. It has the space to bring more along for the ride and with numerous engine options, interior configurations and packages, it's great to know that you've got the right features for whatever life sends your way.
Finally, you have the Sedona, a minivan that has everything in the right place. Join us at Applewood Kia Langley and find yours today!
Applewood Kia Langley: Your Dealership for Top-Quality Kias
Join us at Applewood Kia Langley and take a moment to look over our expansive lot of Kia products. Every vehicle you drive is a new chapter in your life waiting to start, and in life it's not about where you're going – it's how you're getting there.
Convenient leasing program with competitive rates
A wide selection of pre-owned and new Kia vehicles
Proven results for drivers across Metro Vancouver since 1998
Remember our slogan: "It's all good at Applewood!"
Visit us at Applewood Kia Langley, conveniently located at 19764 on the Langley Bypass where the staff is friendly and ready to assist in all your Kia-related needs.